Dude Ranches in Wyoming
The "Golden Era of Dude Ranches in Wyoming"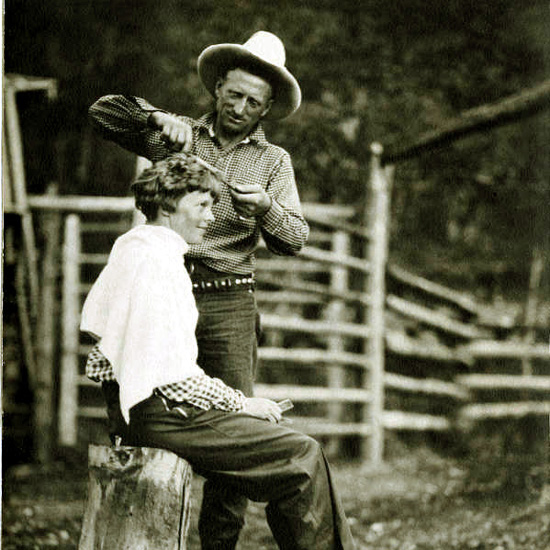 Carl M. Dunrud giving Amelia Earhart a haircut, Double D Dude Ranch, 1934. Photo courtesy wyomingtalesandtrails.com
Blue Sky Sage's "Granddaddy"
Or
The "Golden Era" of Dude Ranches in Wyoming
It wasn't until Yellowstone National Park was officially created in 1876 by President U.S. Grant that tourists had opportunity or reason to visit this region. Grant established the Park not for the preservation reasons that we think of today, but for political "crony" reasons, and he certainly had no vision of the future of dude ranches in Wyoming. Grant was beholden to industry, the railroads in particular, and the railroad moguls had a profit motive in mind - establish a grand tourist destination far away from the population centers in the East, build spur railroad lines, then fill railroad cars full of paying tourists eager to visit this exotic location. The trek would take people by rail from Boston, New York City and Washington, D.C. through Chicago, then to Omaha, and finally to Yellowstone National Park. Destinations on the periphery of the Park (which were void of any accommodations) were located in West Yellowstone and Livingston, Montana; Cody, Wyoming and Victor, Idaho (to service the Jackson Hole, Wyoming gateway). This concept was marketed heavily, and proved to be wildly popular with East coast travelers and as they say, was an "overnight success". Within a few short years, Yellowstone National Park became one of the most popular vacation destination in the world, though in the beginning there were no facilities to accommodate all these visitors; the concept of a dude ranch had yet to be born.
To service this growing and very popular market, small family entrepreneurs around the periphery of the Park started building the first dude ranches in Wyoming. These early dude ranches were hand-built from local, native materials, and staffed by a small number of family and friends with a strong emphasis on a western horseback riding experience and, to a lesser degree, fishing. Family dude ranches added tremendously to the already popular Yellowstone National Park experience and during the 1920's and early 1930's, were one of the premiere vacation experiences to be enjoyed anywhere in the world. Many guests returned year after year to their favorite places, and many long-standing friendships were formed with staff and the surrounding community. Guests were thought of less as customers and more as extended family. They would have a favorite horse, saddle, cabin, or week of the year, and they could hardly wait until they could return the following summer. This span of time is known as "the Golden Era of Dude Ranches in Wyoming".
An entertaining note to include here would be the definition of the word "dude". During the "Golden Era" the word simply meant "someone from not around here". Theodore Roosevelt spent a lot of time in the West in the 1890's and early 1900's and helped popularize the term during his many travels; he himself soon became everyone's favorite "dude" as someone from the East who absolutely loved horseback riding and the West. The reverse perspective was also true regarding a "dude"; when a Wyoming cowboy traveled to New York City and was standing on Madison Avenue in boots and a dusty felt hat, he was referred to as "someone from not around here".
One of my own personal favorites from this era is the Double D Dude Ranch on the Wood River, 35 miles west of the town of Meeteetse, Wyoming. While the Double D still stands, it has not serviced guests since the 1950's, having fallen on hard financial times, and has been taken over by the U.S. Forest Service. It is everything that I think of as "golden era", breathtakingly scenic, remote, and carefully hand-built from native materials harvested from the surrounding mountains. Recently, I spent several pleasant nights in a sleeping bag in the old abandoned guest cabins that are still standing. The famous pilot Amelia Earhart was so taken by the Double D Dude Ranch that she commissioned a personal cabin be built, shortly before her disappearance over the Pacific.
If we fast-forward to the present from the "Golden Era of Dude Ranches" we find a huge change in this original model. As competition increased to service the growing demand, the model changed from the proven "Golden Era" template and started adding features unthinkable to many in an earlier time. Lavish golf courses, massage therapists, spas, yoga rooms, wine tasting, gourmet meals, and tennis courts now seem standard. Unfortunately, many dude ranches have lost the original intent of small, personable, horseback-oriented, true western experiences in exchange for more of a "spa" environment. It is hard to play tennis and ride a cow pony at the same time, though it may be fun to try! These refined additions are not very western, nor in sync with the natural environment. I think they diminish the true western and time-honored "Golden Era" experience.
Unfortunately, modern financial conditions are prohibitive for a small, family-run dude ranch to own expensive private land in an exclusive area along the edge of Yellowstone National Park, nor maintain cabins and lodges in the old template. Try to service debt on a $5.0 to $20.0 million property while only taking 6-20 guests per week in a very short summer season and it's easy to see why the old Double D and others like it could not survive.
At Blue Sky Sage, we have done our best to honor the old and proven dude ranch experience while dealing with todays' financial realities. Horse operations are notoriously expensive to operate in a safe and responsible manner, but we do what needs to be done and the horses repay us and our guests may times over by giving us the best rides of our lives. While the Blue Sky Sage horse tent camp is maybe not as "Golden Era" as Amelia Earhart's cabin, it is much closer to Wyoming's true allure than many modern dude ranches in Wyoming, that feature modern cabins with flat screen TV's and wireless internet. Small group sizes of 6-8 guests per week, friends and family members as staff, living "off the grid", and all the horseback riding in scenic, remote country you could desire rounds out the Blue Sky Sage experience.